THE HEART TRANSPLANT STORY
15 year old brain-dead boy keeps 42 year old man's heart beating.
A 15 year old boy, son of an ex-Army Officer, who was declared brain dead after a road traffic accident in Porbandar, donated his heart to a 42 year old man suffering from Heart Failure.
The young boy's father dream was to see his son serving the nation and so the boy was taking his army training from Sainik School, Chandigarh. Despite the road accident cutting those dreams short, the father in a brave humane decision donated all the organs of the body to serve and save other lives.
The Heart was brought to CIMS Hospital in Ahmedabad through a green corridor.
The Heart Transplant surgery was successful and the patient is doing well at present.
15 વર્ષીય છોકરો જે ભૂતપૂવ સૈન્ય અધિકારીનો પૂત્ર હતો, જે પોરબંદરમાં રોડ ટ્રાફિક અકસ્માત તેનું બ્રેન ડેડ જાહેર કરવામાં આવ્યો. તેનું હદય 42 વર્ષ ના દર્દી માંહદય ટ્રાન્સપ્લાન્ટ કરવામાં આવ્યુ. જે હાર્ટ ની બીમારી થી પીડાતા હતા.યુવાન છોકરોના પિતાનું સ્વપ્ન તેમના પુત્રને રાષ્ટ્રની સેવા આપતા જોવાનું હતું તેથી છોકરા ને સૈનિક શાળા, ચંદીગઢમાં સૈન્યની તાલીમ લઈ રહ્યો હતો. રોડઅકસ્માત થતા સપના ટૂંકા થઈ ગયા હતા. છતાં પણ માનવીય નિર્ણય લઈને પિતાએ શરીરના તમામ અંગોને અન્ય જીવનની સેવા આપવા અને બચાવવા માટેદાન કર્યું.હાર્ટ ને ગ્રીન કોરિડોર દ્વારા સીમ્સ હોસ્પિટલમાં લાવવામાં આવ્યો હતા.હાર્ટ ટ્રાન્સપ્લાન્ટ શસ્ત્રક્રિયા સફળ થઈ હતી અને દર્દી હાલમાં સારી કામગીરી કરી રહ્યા છે.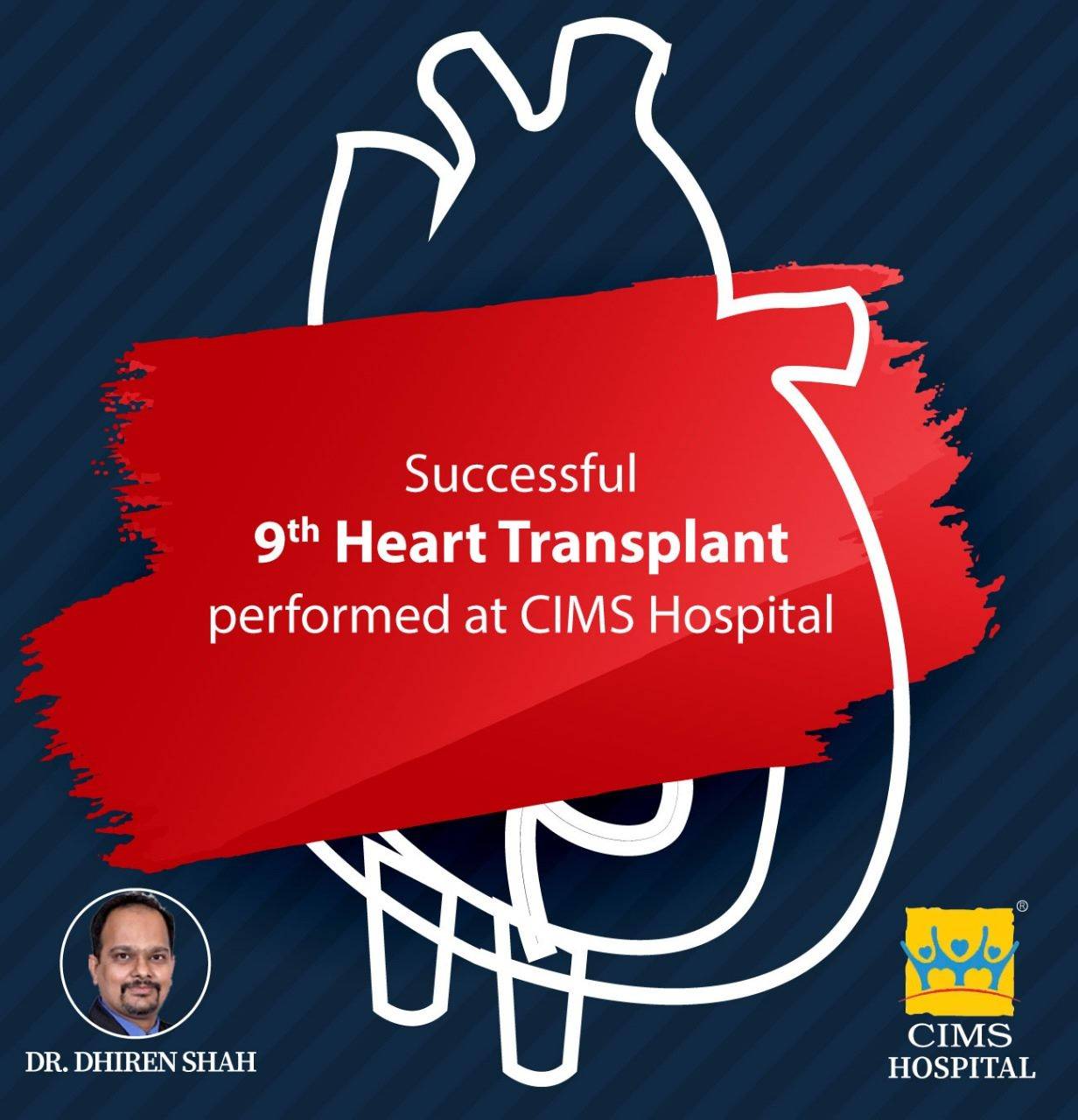 top cardiac surgeon
Dr. Dhiren Shah is patient rated as The Best Cardiac Surgeon in Ahmedabad and Best Heart Transplant Surgeon in Gujarat with 9 successful heart transplants to his name. He is affiliated to CIMS Hospital in Ahmedabad that was recently awarded the title of best hospital in Gujarat in India for the year 2018 by the Times CyberMedia Group.
Dr. Dhiren Shah can't stress enough that this website is for patient education only and not for solicitation. Please always consultant your doctor or seek guidance of your preferred hospital.