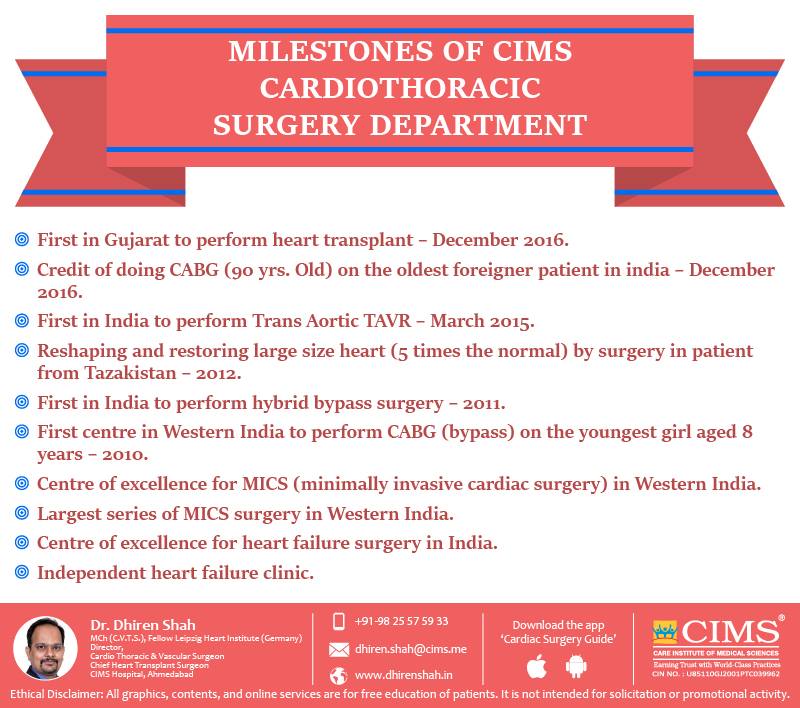 Milestone Of CIMS Cardiothoracic Surgery Department
First in Gujarat to perform heat transplant-December 2016.
Credit of doing CABG (90 yrs.) on the oldest foreigner patient in India- December 2016
First in India to perform Trans Aortic TAVR – March 2015
Reshaping and restoring large size heart (5 times the normal) by surgery in patient from Tazakistan- 2012
Frist in India to perform hybrid bypass surgery – 2011
First Center in Western India to perform CABG (bypass) on the youngest girl age 8 years – 2010
Center of excellence for MICS (minimally invasive cardiac surgery) in Western India.
Largest series of MICS surgery in Western India.
Center of excellence for heart failure surgery in India.
Independent heart failure clinic.    
#Milestone #Cardiothoracic #Surgery
#DrDhirenShah #CIMS #CIMSHospital